This is an extra-large platted lot within Rose Lake Forest. It measures 70 feet on the county road (Bluff Dr.), 135 feet at the back, and an average of 324 feet deep. An 18.75 acre private park / greenbelt runs along the back, giving you privacy and elbow-room; you can walk in the park, but no one can ever build or hunt there.
This parcel is suitable for stick-built homes, mobile homes, and/or camping. Access by county road. Underground telephone and electric at the road. Private access to 373 acre (all sports) Rose Lake.
Here's what's special:
Extra-Large Lot - 32,673 square feet.
Access to South Park out your back door.
Just a ten-minute walk to the private beach on Rose Lake.
Here's the thing about this Parcel--
If you pull up your car in front of this Parcel, and look at it from the road without getting out and walking on it, you're going to think you wouldn't like it. Do yourself a favor-- get out and walk on this Parcel.
Find the back corners, so you get a feel for how big it really is. Bring a printout of the plat, so you can see how it lays up against the 18.75 acres of park in the back.
If you're looking for something you can drive onto and start using the same day you buy it, this one is not for you. You're going to need to have someone with a Bobcat or small dozer come out and put in a driveway.
This Parcel starts off running downhill a bit from the road. But then it levels off naturally into a large area which will start off being an awesome secluded campsite, and can one day become a beautiful building site.
If you want something really nice, this is the one for you.
Note: The sign is not currently up on this one. I won't be back until sometime in the Spring to put the sign up, which makes it a little harder to find. I assure you this one is well worth it. My orange stakes are still there, and if you use the Plat you should have no trouble. For a little extra effort, you'll get something special. If I still have this long enough to put up the sign, I'll be raising the price.
About Rose Lake Forest
This property is located:
5 minutes from gas and groceries in Leroy
25 minutes from Cadillac
1 hr and 10 mins from Grand Rapids
3 hrs and 15 mins from Detroit area
Road and Utilities
Each lot is on county road-- plowed and maintained all year around. Electric and telephone at the road, all underground, so the natural beauty is unspoiled by overhead wires. Osceola county allows snowmobiling on the shoulder of all roads.
Private, members-only access to Rose Lake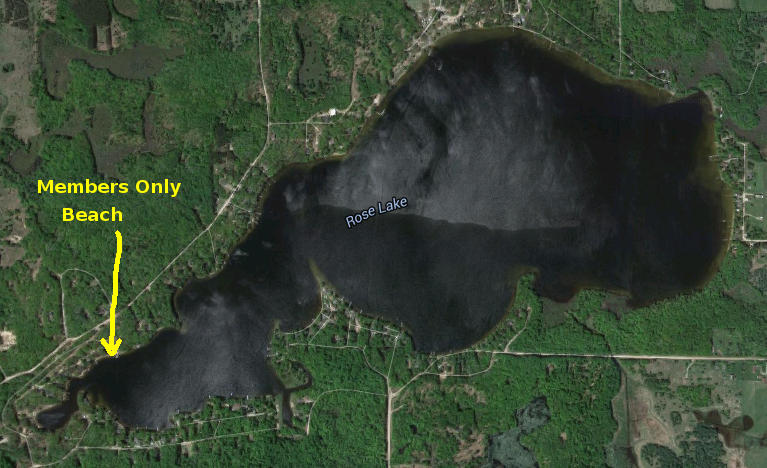 Rose Lake is a jewel of the North. A natural lake, 373 acres in size; spring fed, the water is clear and the fishing is great. Rose Lake is an all-sports lake. That means you can fish, swim, water-ski, pull a tube behind your boat, or just put-put around in a pontoon and grill steaks (that's what I like to do).
This property gives you access to a 200 foot private, members-only beach. There's a large designated swimming area with a sandy bottom, and on the other side an area to pull up boats. It's a place you'll feel safe letting your teens walk to. You don't have to walk though, it's all county road, and there's parking and bathrooms just above the beach area. You're two minutes away from the lake, and you don't even have to make reservations!
As a property owner here, you'll be a member of the Rose Lake Forest Property Owners Association. Yearly dues are $85 for the first lot, and $30 apiece for each additional lot you own. As a member, you'll get a set of keys and a sticker for your windshield, which gives you the use of all this:
Access to 200 foot private member's-only beach on Rose Lake.
A bath house with toilet and shower
Bathrooms at the beach.
Sanitary station to dump the black and gray-water tanks in your camper
Clean and pure water well to fill your camper's tank with fresh water
Dumpsters to take your trash
Pavilion to host receptions and parties.
Ball diamond.
Kids playground
Access to over 120 acres of common private parks where you can ride trail bikes and four-wheelers.
Use your keys to let yourself in any time, WITHOUT having to find someone "on duty", or ask permission, and all at No Extra Cost.
Camp for as long as you want. Leave your camper here, as long as you want, even year 'round. Most people eventually put in their own well and septic, but you don't have to right away, or ever, until and unless you want to. Can you tell me any other place in Michigan where you can own the land, and still have a sanitary place to get fresh water and dump your camper waste tanks, any time you want without digging your own well and septic?
Put up your own shed or garage if you want to store your boat, snowmobile, or trail bike. Later, when you're ready, you can build a cottage, or put in a mobile home (mobile homes restricted on some lots). This land is a prime building site-- every one has been perc tested and certified buildable. There's plenty of room to do as you please.
The property is subject to a few common sense restrictions. You can read about them here.
You'll want to see the beach, the pavilion, and everything else-- and know what you're getting before you buy. Once you're inside Rose Lake Forest, the best way to find your way around is with a map.