This ten-acre parcel is hilly and beautifully wooded, situated on a private road.
Mostly hardwoods
Great hunting
Touches 80 acres of State Forest - buy 10 acres and hunt 90!
This is the closest to the public road of the six parcels.
Measures approximately 330 feet East/West, by 1320 feet North/South.
You'll find many ideal spots to build or set up camp.
All the corners are flagged with steel posts, painted bright orange. The corners are not professionally surveyed, but are reasonably accurate.
Tips on Finding This Land
To the left you see a menu which includes Map to the Land. Please read these brief instructions, then look at the map, and this will all become clear.
At the top of this detail page you'll see GPS coordinates. If you have a GPS device or a smartphone, you can enter those coordinates, and your device will lead you straight to this parcel.
There's one slight glitch: Most GPS maps show E. 3 Mile Rd. as a regular public road, connecting N. Bonney Rd. with N. Skookum Rd. This is incorrect. On the west side E. 3 Mile dead-ends at the cemetary.
The Map to the Land here on my site, courtesy of OpenStreetMaps, shows the road as it actually appears.
Your GPS will probably try to lead you in from the West side, which won't get you there. You need to come in from the East side, from N. Skookum Rd.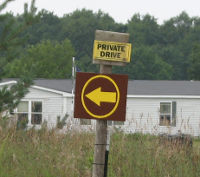 The photo at right shows the entrance to the private drive for this property. Notice the brown sign with the yellow circle, which is my trademark, and the directional arrow pointing you in the correct direction.
As you can see, the easement running back to this land looks like a private driveway to the house lying north of the drive. In fact, the owner of that house uses the easement as part of his driveway. Don't worry, it's okay for you to go on back.
When you get far enough back you'll begin to see my regular signs showing each parcel's unique tag number.
80 Acres of State Forest Touches this Land
When you get to the J1 sign, the land on your right is Parcel J1, and the land to the left is State Forest. The road meanders a bit, but it mostly goes due west. As you continue west you'll come to Parcels J2, J3, and so on up to J6. All along the south side, to your left, is State Forest.
Owning land next to State Forest can be both good and bad. On the one hand, you get ready access to more land, on the other hand you have more competition from other hunters.
This parcel offers the best possible compromise. The 80 acres of State Forest touching this land has no access to a public road-- it is effectively landlocked. The only people who can get to this piece of State Forest own land which touches it, or else they have to trespass to get there. This means compared to other State Forest lands, you may expect this will be very sparsely hunted.
About this Location
Lake County has a higher percentage of public lands-- State and National Forest, than any other County in Michigan's lower peninsula. The eastern side of the County (where this land is) is hilly and, in my opinion, the prettiest part of the County.
This property is located:
1 mile East of Luther
Groceries, and 2 bar are just 5 minutes away
25 minutes to Baldwin
30 minutes to Reed City
30 minutes from Cadillac
1 hr, 15 mins from Grand Rapids
3 hrs and 15 mins from Detroit area
Road Access
This parcel is accessed by a private easement connecting with N. Skookum Road (county road).
Utilities
Electric lines run to within about 1000 feet of the parent property (East line of J1).
For water and sewage-- hey, you're out in the countryside. If you want these, you'll have to put in your own well and septic. All this land is high and dry with sandy/loamy soil. You'll have no problem with drainage, and can put a septic tank and drain field anywhere you like.
Hunting
Excellent hunting. I've seen tons of wildlife on this land. Deer, turkey, raccoons, and even a fox. There are several water sources nearby, and plenty for them to eat.
Local Attractions
Services. This land is about a mile from Luther, as the crow flies. Since we're not crows, it's about three miles by road. Considering it's such a small town, Luther has a lot going for it:

Grocery store (liquor)
Hardware
Post Office
Public Library
Museum
Gift Shop
3 Churches
2 Bars / Restaurants
Elementary School
Public park

Public Park. The park has a playground, porta-johns, and a lake where you can fish and swim. The lake is made by a dam across the Little Manistee River, which runs through town.
Restaurants / Bars.

Loggers Landing. Full restaurant menu; daily specials. Dance floor and occasional entertainment. Full bar.
North End. Full bar, also serves sandwiches, subs, pizza, and various specials.

Canoeing. The Little Manistee river runs through Luther. The Pine River runs nearby. There are several canoe liveries in the area or, if you have your own canoe, many public access sites to the rivers.
Trails. I'm going to show you something cool. Look at this tiny map to the right. I know it's hard to see-- if you want a better look, click on it and you'll get in in high-res. This is a map of Lake County showing National Forest in red, and Michigan State Forest in green. The white space is either private land, or public land not accessible by the public. Notice how little white there is on the map? The yellow dot with the red arrow pointing at it shows where this land is at.
Lakes. You're less than ten minutes from several lakes with public access, including the Village lake in Luther, and Howe Lake on Old M63.
One of the things I find amazing about this land is that it is so secluded, and yet it's only a mile as the crow flies from the Village of Luther.
If you're looking for a place where the hunting is great, you can leave a camper year 'round, build a cabin or tiny-house, and not have anyone hassle you-- yet you're only a five minute drive away from a steak dinner and a cold beer-- this is the place.