This is a beautiful ten-acre parcel, in Missaukee County, Michigan.
Here's what's special:
Located near the end of the private drive / easement.
Water Spring near back originates a small stream that flows even in August.
Huge block of Manistee State Forest, not touching, but beginning less than a quarter mile away. More acres than I can count!
Beautifully wooded; mostly hardwoods.
Excellent Hunting!
Measures approximately 332 feet East/West, by 1325 feet North/South.
This land is beautiful, with gently rolling hills at the front, and a few steeper hills at the back. Really pretty.
Road Access
This Parcel is accessed by a common deeded easement, a private drive, coming in from W. Edmonds Road. Maintenance of the easement is up to the owners; W. Edmonds is a gravel county road, maintained by the county, and plowed in the winter.
Utilities
Electric lines run along W. Edmonds road. The parcels accessed by easement will naturally have further to run utilities, if ever wanted. The width of the easement allows for this.
For water and sewage-- hey, you're out in the countryside, so you'll have to put in your own well and septic. Except in obvious places, this land is high and dry with sandy/loamy soil. You'll have no problem with drainage, and can put a septic tank and drain field most anywhere you like.
This land sits in the middle of thousands of acres of Public Land!
All the Green in the map below is Manistee National Forest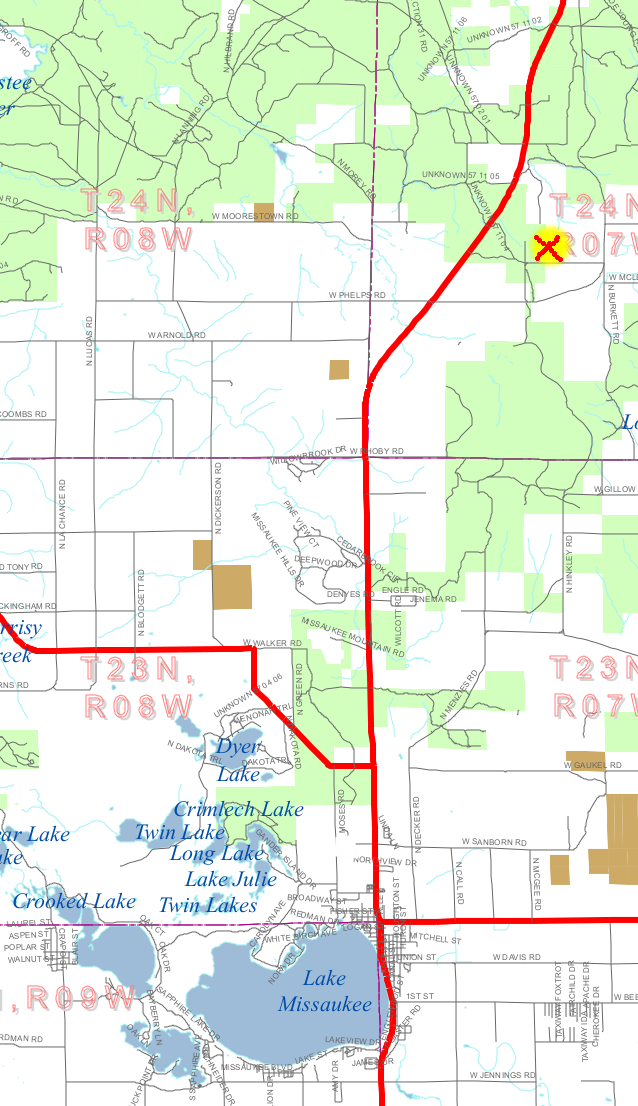 Hunting
The hunting is excellent. I saw some deer while I was marking corners on this land, but nothing compared to tracks! You can see there are two water sources on the original 80-acre parcel, which draw deer in from the miles of adjacent State Forest.
This property is located:
Within about a mile of Hwy. M66
10 minutes from Lake City
25 minutes from Kalkaska
30 minutes from Cadillac
30 minutes from Houghton Lake
2 hrs from Grand Rapids
3 hrs and 15 mins from Detroit area
Local Attractions
Services. This land is about ten minutes from Lake City, which has many conveniences and local attractions:

Lake Missaukee
Grocery store (liquor)
Hardware
Post Office
Public Library
Gift Shop
Churches
Bars / Restaurants
Elementary School
High School
Public park

Public Park. Missaukee County Park is located on the north shore of Lake Missaukee and features 33 acres of park with sandy beaches, campsites, restroom/shower facilities, playground, pavilions and picnic areas, ball fields, and boat ramp.
Restaurants / Bars.
I've personally been to these two places; I enjoyed the food at Hammer's, and both spots offered IPA beers. Very friendly.

Hammer's Pub and Grub. Full restaurant menu; Full bar.
Town Pub Saloon. Full bar, also serves burgers and other sandwiches.

Many other places to try!
Lakes. Lake Missaukee is an all-sports lake covering 1,880 acres! It varies in depth between 5 and 27 feet. Anglers can expect to catch a variety of fish including Bluegill, Largemouth Bass, Walleye and Yellow Perch.

In the Summers you can take the wife and kids camping, and have access to the lake, the parks, and the night life. In the Fall, you'll have your place to go hunting.
Pioneer township is not zoned. If you're looking for a place where the hunting is great, you can leave a camper year 'round, build a cabin or tiny-house, and not have anyone hassle you-- yet you're only ten minutes away from a steak dinner and a cold beer-- this is the place.
Tips on Finding This Land
All the corners are marked with steel posts, flagged with orange ribbon. The corners are not professionally surveyed, but are reasonably accurate.
At left, above the thumbnail photos, there's a link to a feature called Map to the Land. It places a flag on the map where the land is located. You can scroll around on this map and use it to navigate to the land from whereever you may be coming.
There's a table on this page where you'll see GPS coordinates. If you have a GPS device or a smartphone, you can enter those coordinates, and your device will lead you straight to this parcel.
Legal Description:
Pioneer Twp., Missaukee County, Michigan; T24N-R7W Section 21: W/2 E/2 NE/4 NW/4.
Subject to and including an easement 66 feet in width for the purposes of ingress, egress, and utilities for the benefit of the owners of the various parcels within the E/2 NW/4 of Section 21; the centerline described as beginning on W. Edmonds Rd. at a point which is approximately 275 feet E of the SW corner of the SE/4 NW/4, thence running northerly along the existing driveway 660 feet, thence continuing northerly to a point at or near the N 1/8th line Sec. 21, where the drive splits into a fork; Fork 1 continues northerly to a point approximately 430 feet north of said 1/8th line, then turns westerly, around the edge of the existing pond, until it crosses into the W 1/4 of the NE/4 NW/4; Fork 2 turns East, and continues easterly along the existing drive, staying on or near the 1/8th line, until it crosses into the E 1/4 of the NE/4 NW/4.
Available Terms:
Cash: $500 today, balance within 30 days. Seller will deliver a warranty deed within 10 days of receipt of full payment.
---
Land Contract (Standard): $3,390.00 down, $371.71 per month, for 15 years. Payment includes property taxes. Interest rate is 11% simple interest; no penalty for early payoff. 90 days same as cash. That means you can buy on land contract, and if you pay off the full balance within 90 days, you pay zero interest.
---
Land Contract (Low Down Payment): $1,695.00 down, $521.51 per month for the first year, after which time your monthly payment drops to $371.71. Payments include property taxes. Interest rate is 11% simple interest; no penalty for early payoff. Term is 15 years; 90 days same as cash.
---
Pay just $500 today to secure sale with any of the above options. Payment options available:
Credit/debit card through PayPal
Checks are accepted. For cash deals, checks must clear before deeds are issued.
Bitcoin (contact us for our Bitcoin transaction number.