This is a wooded 11.25+/- acre parcel with a rustic hunting cabin, located near Leroy, Michigan.
Access is by private deeded easement off of Seventeen Mile Road.
Here's what makes this a special deal:
Cabin
The cabin has no electric or water, but does have all this:

Measures about 30'x30' square.
Spacious loft covers about half the floorspace
Fairly new roof
One main floor bedroom
Kitchen
Livingroom
Place for a bathroom (needs construction)
Nice deck on the front, partially covered
Already set up for a wood stove (not included)

Outhouse
Deeded easement gives guaranteed perpetual access
Driveway
Hilly and beautifully wooded; mostly mature pine
Great hunting - tons of wildlife
Privacy - this is pretty far off the beaten path
Freedom - Rose Lake Township and Osceola County have No Zoning
The window on the front porch is broken, and needs to be replaced.
I'm not a professional surveyor, but I've marked all the corners on this parcel with stakes and orange ribbon. I had several professionally surveyed corners to work with, as shown on the plat, so all the corner markings are reasonably close.
Near as I can tell the land measures approximately 489' east and west, by 975' north and south. That calculates to 10.94 acres. The tax office lists it as 11.25. I tend to err on the side of caution, so the truth is probably closer to the official figure. If you ever decide to get it surveyed, there are numerous surveyed corners nearby, so it will not be expensive.
Tips on Finding This Land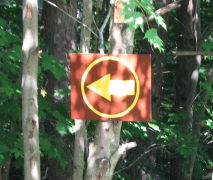 Before you head out to look at this land, please print a copy of the Plat. It has two pages, and shows how the land lays in relation to the roads, as well as the dimensions and layout. The second page is an aerial photo, which you'll find helpful.
Also on the plat is a table of approximate GPS coordinates. So if you have a GPS or smartphone, it will be simple for you to find the spots in the table.
Notice the three "Way Signs" marked on the plat. These are actual arrow signs I've put up, which will help you find your way.
This parcel is one of two 11.25 acre parcels, sitting side-by-side. Be sure to check availability-- if it's marked SOLD, then you're too late on that one.
About this Location
This property is located:
About 2-1/2 miles northeast of Leroy
6 Miles to Hwy M-131 (Leroy / Luther exit)
20 minutes to Reed City
25 minutes from Cadillac
1 hr, 15 mins from Grand Rapids
3 hrs and 15 mins from Detroit area
Road Access
Access is by private deeded easement, coming off 17 Mile Rd., beginning just about a quarter mile east of Mackinaw Trail.
Note to snowmobilers: Snowmobiles are allowed on the shoulders of all roads in Osceola county.
Utilities
The nearest electricity is about 1,000 feet away. That means it's a possibility someday, but probably not something you'll want to do right away. If you're like me, and understand that with today's tech you only need a few batteries and an inverter and you can have electricity without having to run a generator more than an hour or two a day, you probably won't miss it. If that sounds interesting to you and you want to know more, just ask.
For water and sewage-- hey, you're out in the countryside. If you want these, you'll have to put in your own well and septic. All this land is high and dry with sandy/loamy soil. You'll have no problem with drainage, and can put a septic tank and drain field anywhere you like.
Hunting
Excellent hunting. I've seen tons of wildlife on this land, along with some really monster buck scrapes. I haven't seen turkeys with my own eyes yet, but I've seen dozens of turkey feathers. And tracks.
Local Attractions
| | |
| --- | --- |
| | Rose Lake. This parcel is only five minutes away from my favorite lake in Michigan, beautiful Rose Lake. This is an all-sports lake, 370 acres. A County-owned park and campground with a sandy beach, and boat launch, is on 18 Mile, just about three miles east of Mackinaw Trail. Swim, boat, water-ski, and fish to your heart's content. Fishermen can look forward to Bluegill, Pumpkinseed Sunfish, Black Crappie, Rock Bass, Northern Pike, Walleye, Largemouth Bass, and Bullhead. |
Services. This land is only a mile and a half from Leroy. Considering it's such a small town, Leroy has a lot going for it:

Grocery store (beer, liquor, ice, meat, produce, gas, diesel)
Hardware
Post Office
Public Library
Dollar General
At least 4 Churches
1 Bar / Motel
2 Restaurants
Bank
Elementary School
Public park

Restaurants / Bars.

Mr. Pibbs. Full restaurant menu; daily specials. Excellent pizza, and one of the best and biggest burgers you'll get anywhere.
Travelers. Full bar, full menu before 9pm, bar menu after 9pm.
If you're looking for a place where the hunting is great, you can leave a camper year 'round, and not have anyone hassle you-- yet you're only a five minute drive away from a steak dinner and a cold beer-- this is the place.