Unique ten-acre parcel with rolling hills and it's own stand-alone forest of hardwoods. Plenty of open area around the edge of the trees-- pull in and set up camp the same day.
Easily accessible anywhere around the edge of the woods
Beautiful wooded area gives plenty of cover for wildlife
Choice of beautiful building sites
Pull in and start camping same day
Leave your camper here year 'round without hassle
Measures approximately 660 feet East/West, by 660 feet North/South.
In my opinion this is the perfect shape for a ten-acre parcel-- square, instead of long and skinny. Think about it-- when you stand in the center of a the typical long ten-acre parcel, it's only 165 feet to the line on either side. With a square parcel, it's 330 feet from the center to every side. It's the same amount of land, but it feels bigger.
You'll find many ideal spots to build or set up camp.
All the corners are flagged with steel posts, painted bright orange. The corners are not professionally surveyed, but are reasonably accurate.
Tips on Finding This Land
This parcel is one of eight ten-acre parcels which together once made up an eighty-acre tract. My signs for Parcels P1 and P2 are not currently displayed on the land, and the others are too far back to be seen from the road. You'll have to use the information found here on my website, to locate the land.

Be sure to print a copy of the Plat. Once you've found the correct location, the aerial photo and dimensions will help you find the corners for each parcel.

Please use the Map to the Land link at-left to help find the correct location. Also note you can use the latitude/longitude coordinates with Google Maps on your phone, to lead you to the front of the land. Enter the coordinates separated by a comma, like this:

44.016985,-85.611448

The coordinates shown above are for P1, and shown as an example. Look to the table below to find the coordinates for the particular parcel you want to find.
About this Location
Lake County has a higher percentage of public lands-- State and National Forest, than any other County in Michigan's lower peninsula. The eastern side of the County (where this land is) is hilly and, in my opinion, the prettiest part of the County.
This property is located:
About 4 miles southeast of Luther
Groceries, and 2 bars are less than ten minutes away
5 Miles to Hwy M-131 (Leroy / Luther exit)
20 minutes to Reed City
25 minutes from Cadillac
1 hr, 15 mins from Grand Rapids
3 hrs and 15 mins from Detroit area
Road Access
A paved County road (Old M-63) runs from Hwy M-131 to the access road to this property. Parcels P1, P2, and P3 are on the paved county road. The other parcels are accessed by a private deeded easement.
Utilities
Electric lines run along the paved County Road (Old M-63). Power has not been run to the back parcels, but a utility easement has been provided in case you ever want to run it back.
For water and sewage-- hey, you're out in the countryside. If you want these, you'll have to put in your own well and septic. All this land is high and dry with sandy/loamy soil. You'll have no problem with drainage, and can put a septic tank and drain field anywhere you like.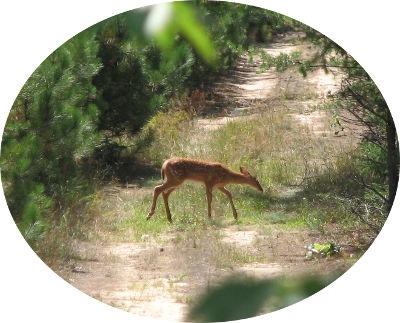 Hunting
Excellent hunting. I've seen tons of wildlife on this land. Deer, turkey. There are several water sources nearby, and plenty for them to eat. I got this deer's photo on the access road between Parcels P2 and P3.
Local Attractions
| | |
| --- | --- |
| | Howe Lake. Here's an unexpected bonus-- less than a mile to the east of this land is 40-acre Howe Lake. It doesn't have sandy beaches, but it does have a public boat launch. Looks like a father and son were out fishing the day I was there. |
Services. This land is about three miles from Luther, as the crow flies. Since we're not crows, it's about four and a half by road. Considering it's such a small town, Luther has a lot going for it:

Grocery store (liquor)
Hardware
Post Office
Public Library
Museum
Gift Shop
3 Churches
2 Bars / Restaurants
Elementary School
Public park

Public Park. The park has a playground, porta-johns, and a lake where you can fish and swim. The lake is made by a dam across the Little Manistee River, which runs through town.
Restaurants / Bars.

Loggers Landing. Full restaurant menu; daily specials. Dance floor and occasional entertainment. Full bar.
North End. Full bar, also serves sandwiches, subs, pizza, and various specials.

Canoeing. The Little Manistee river runs through Luther. The Pine River runs nearby. There are several canoe liveries in the area or, if you have your own canoe, many public access sites to the rivers.
Trails. I'm going to show you something cool. Look at this tiny map to the right. I know it's hard to see-- if you want a better look, click on it and you'll get in in high-res. This is a map of Lake County showing National Forest in red, and Michigan State Forest in green. The white space is either private land, or public land not accessible by the public. Notice how little white there is on the map? The yellow dot with the red arrow pointing at it shows where this land is at.
If you're looking for a place where the hunting is great, you can leave a camper year 'round, build a cabin or tiny-house, and not have anyone hassle you-- yet you're only a ten minute drive away from a steak dinner and a cold beer-- this is the place.
Available Terms:
Cash: $500 today, balance within 30 days. Seller will deliver a warranty deed within 10 days of receipt of full payment.
---
Land Contract (Standard): $4,090.00 down, $442.75 per month, for 15 years. Payment includes property taxes. Interest rate is 11% simple interest; no penalty for early payoff. 90 days same as cash. That means you can buy on land contract, and if you pay off the full balance within 90 days, you pay zero interest.
---
Land Contract (Low Down Payment): $2,045.00 down, $623.49 per month for the first year, after which time your monthly payment drops to $442.75. Payments include property taxes. Interest rate is 11% simple interest; no penalty for early payoff. Term is 15 years; 90 days same as cash.
---
Pay just $500 today to secure sale with any of the above options. Payment options available:
Credit/debit card through PayPal
Checks are accepted. For cash deals, checks must clear before deeds are issued.
Bitcoin (contact us for our Bitcoin transaction number.